A couple of weeks ago I got the chance to spectate and play in the 2nd Ratchaburi Dragonfire Cup, one of hundreds of regional takraw competitions that happen all over Thailand, all year round. This was the second time the Nongpho Ratchaburi Takraw Club has held the Dragonfire Cup as part of a local festival on the banks of the Mae Klong river in Ratchaburi City. For videos check out our youtube channel at youtube.com/Takrawesome and for the full photo album head on over to Ratchaburi Takraw Club's facebook page at facebook.com/RatchaburiTC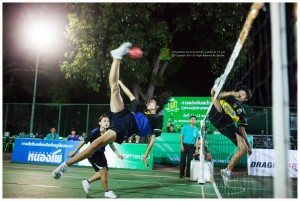 It's a three-day competition with a different level of takraw on each day – day one is girls, day two is club level mens, and day three is the open competition. I got the chance to be there for all three days of competition, and on the third day I played for Suphanburi Sports School in the opening round even though I've never even been to Suphanburi. Because Thailand, I guess!
Day one
Day one saw some brilliant matches between a total of 8 girls teams and seeing the younger 14-15 year olds taking on the 19-20 year olds was great to watch! It's a shame I didn't get any video footage of this first day of competition as there were close matches everywhere, and, if you've never seen women's takraw in Thailand, you'd be surprised at how hard they spike the ball.
Easily the crowd favourite was the team from Benjamarachutit school whose players were only 15 years old (their spiker, Fah, turned 16 on the day of the competition). In the opening round they took down a strong team from Cha-am before out playing the older (17-18ish) and more experienced Ratchaburi Takraw Club B girls team in the second round. No one expected them to get this far, so when they faced the Ratchaburi Takraw Club A girls team in the final, the crowd was well and truly behind them! Even the apparently impartial president of the Ratchaburi Takraw Club was heckling the older girls in support of the Benjamarachutit team. And so after a nail-biting three sets, they won! They beat three older and vastly more experienced teams on their way to winning the girls division of the Dragonfire Cup!
Day two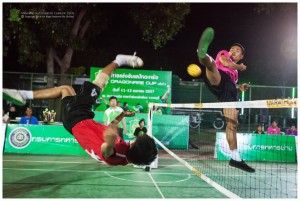 Day two of the competition was the club level mens competition, and once again there were 8 teams from all over Ratchaburi province who had come to play. I didn't know this beforehand, but some friends of ours that we used to train with in Bangkok were here playing too for the Friends of Ratchaburi Takraw Club. These guys are all still in high school (17-18 years old) and have been playing takraw for years, and damn did they put on a good show! This time, I did get videos, so check out our new youtube channel at youtube.com/Takrawesome and have a look! You'll no doubt see that the quality of club-level teams in Thailand is still reasonably high, and a lot of these teams would clean up in division two of King's Cup. The Friends of Ratchaburi Takraw Club made it through the first two rounds, but lost to Mueang Phet in a final that went right down to the wire!
Day three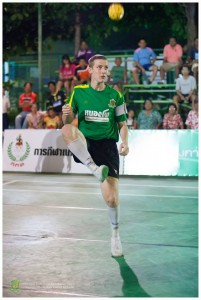 The final day of competition rolled around and it was my turn to play! This was the open competition where any level of team could enter, and the 8 teams were made up of two Ratchaburi Takraw Club teams, two Suphanburi Sports School teams, an Army team, a Mueang Phet team, and… two other teams that I can't remember. Damn. So in my first round match playing for Suphanburi Sports School B, we met Ratchaburi Takraw Club B which was a regu from the Ratchaburi Takraw Thailand League team. This was my first time playing against a team of this calibre and it was much less painful than I had anticipated! Great stuff.
We started off pretty well and kept up with Ratchaburi for the first set, and narrowly lost 13-15. Then the second set, oh god why. The short version is my brain turned off, I sucked, and I got subbed off when we were down 4-8, then Ratchaburi steam rolled 15-5. The long version is on youtube! You can checkout the whole match below. As for the rest of the open competition, it was some great high-level takraw between some brilliant teams, although the energy was a little low – no doubt because once the second round rolled around the only teams remaining were made up almost entirely of players from the Ratchaburi Takraw Club – everyone knew each other! Somewhat predictably the final came down to Nongpho Ratchaburi Takraw Club A & B and it was a very tight match with Ratchaburi B taking out the win, and the 15,000baht prize money. I managed to film a few games (including the final) and the quality of takraw is right up there so check out the vids on our youtube channel.
I've got to say a big thanks to everyone at the Nongpho Ratchaburi Takraw Clubfor giving me the opportunity to both play in the competition and report on it! They are doing great things for the world of Sepak Takraw so between RatchaburiTC and Takrawesome you will be well informed! Don't forget to like Takrawesome and RatchaburiTC on facebook: Facebook.com/Takrawesome &  Facebook.com/RatchaburiTC