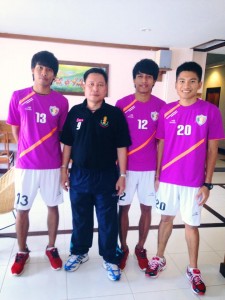 The 2014 Takraw Thailand League kicks off today (15th March) with five matches across Thailand tonight. We'll have the complete season schedule up soon, but for now we've put together the 2014 team listing with all ten competing teams.
Each year two new teams replace the bottom two teams from the previous season, and this year Phrae and Phitsanulok replace Sisaket and Kalasin. It'll be a very interesting season with so many players switching teams including Pornchai switching from Ratchaburi to Chonburi, Anuwat moving from Nakhon Pathom to Kanchanaburi, and Kriengkrai is coming out of hiding to play along side him for Kanchanaburi. Previously it seemed like Ratchaburi would be the team to beat as the reigning champions, but with 7-time champions Phrae back in the league and so many players switching teams – it's hard to say what the ladder is going to look like at the end of the season. What I can tell you now though is that the most handsome regu for this season is Surin's new first regu – featuring our friends from Chula University.
With the league starting this weekend, we'll have an update for you early next week to let you know how the first round went!