So if you're a sepak takraw fan you've probably heard about the Takraw Thailand League at some point – but unless you're a local, it can be pretty tough to find information on it. Well I'm here to help! I've written a quick explanation as to how the Thai league works, the rules, the teams, and even a little bit of history – a complete introduction to the most competitive sepak takraw league in the world!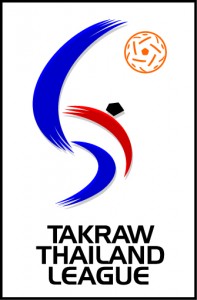 General
The Takraw Thailand League (TTL) is a league competition between 10 teams, all from different provinces in Thailand. The league is held every year, and 2014 is the 13th time it's been run.
Matches are usually held once per week, however some weeks have two matches.
This year the league runs from 15th March to the 21st of June.
Each team plays 9 home matches and 9 away matches for a total of 18 matches.
Each team hosts each other team once, and visits each other team once.
League format
The league is a team event – so for every match, 3 regus plays each other.
Each regu plays to the best of 3 sets, and each set is played up to 21 points. However, each set must be won by two or more points, to a ceiling of 25 points.
For every regu victory, the team gets one league point. This means that for every match a total of 3 points are up for grabs. So for example, in round 1 of the 2014 TTL, Bangkok defeated Kanchanaburi by 2 regus to 1 – therefore Bangkok gets 2 league points, and Kanchanburi gets 1 league point.
At the end of the year, whichever team has the most league points wins – there are no playoffs or finals. If two or more teams have equal league points, the winner is determined by count back according to sets won/lost and points won/lost.
At the end of each season, the bottom two teams on the ladder are dropped from the league, and the two top teams from division two competitions are added to the league. Sisaket and Kalasin were bottom of the table in 2013, so this year they have been replaced by Phrae and Phitsanulok.
Teams
Most teams have about 20 players in their squad, but for a given match the team may only enter 12 players maximum. (3 players per regu, plus 3 substitutes).
Each team can have a maximum of 2 Thai national team players.
Most of the players in the TTL are Thai, however this year there are a number of players from the Malaysian National Team playing in the TTL including Sahidan Bin Md Ali (Nakhon Pathom), and Noor Azman Bin Abdul Hamid (Phrae) plus Takeshi Terashima from the Japanese National Team is playing for Chonburi.

Malaysian Players competing for Nakhon Pathom in the 2013 Thai League.
(Photo by Ratchaburi Takraw Club)
2014 TTL Teams
Ratchaburi
Bangkok Thonburi University
Chonburi – Pattaya
Kanchanaburi
Nakhon Pathom
Chaiyaphum
Surin
Ubon Ratchatani
Phrae (New team for 2014)
Phitsanulok (New team for 2014)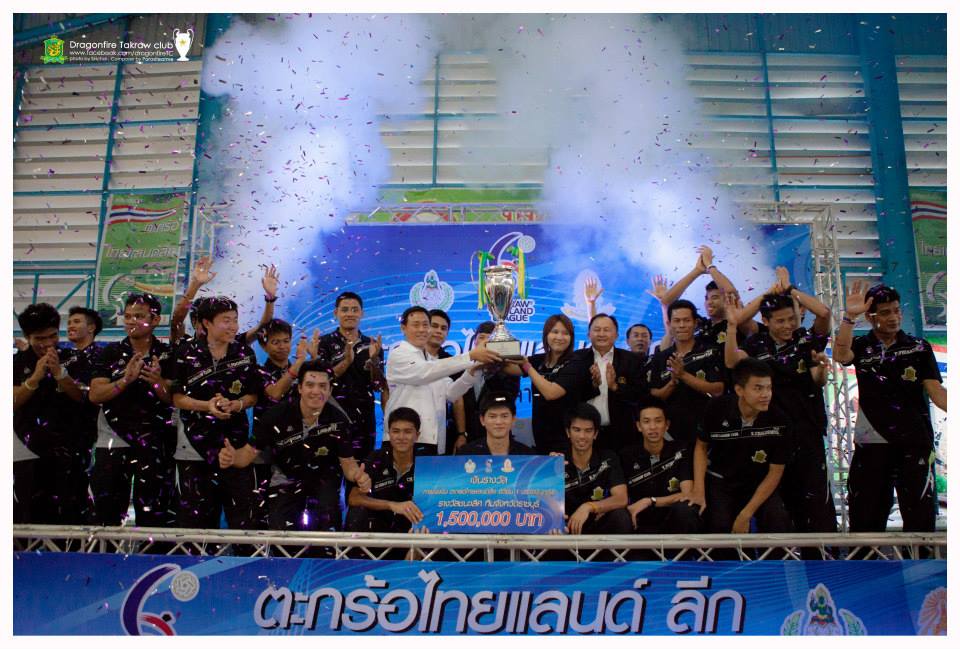 Previous champions:
2013 – Ratchaburi
2012 – Bangkok Thonburi University
2011 – Nakhon Pathom
2010 – Nakhon Pathom
2009 – Nakhon Pathom
2008 – Nakhon Pathom
2007 – Phrae
2006 – Phrae
2005 – Nakhon Pathom
2004 – Nakhon Pathom
2003 – Nakhon Pathom
2002 – Nakhon Pathom